Principal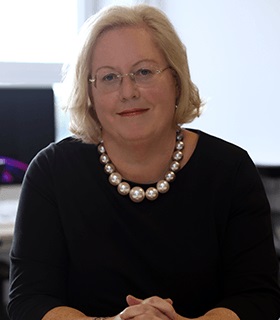 Sam was appointed Principal of Bromley College in 2010 and oversaw its first merger with Orpington College in 2011. In 2013, the College set up a new multi-academy trust, incorporating four special and alternative provision schools in the Borough. Following this success, Sam went on to lead the College through the country's first three-way college merger with Bexley College and Greenwich Community College – creating London South East Colleges in August 2016.
London & South East Colleges Group, headed up by Sam, was established in 2017 as the overarching organisation encompassing London South East Colleges, London South East Academies Trust (which has now grown to eight schools) and London Skills for Growth.
Sam started her career in the HR sector. She then managed a training provider and worked for a funding agency before joining the FE sector in 1997. She took up posts in three colleges before being appointed Principal at Bromley.
Sam is a fellow of the CIPD and a fellow of the RSA, as well as a Vice-Chair of Mixed Economy Group (MEG). She was awarded an OBE for services to Further Education in 2016 and achieved her Doctoral Degree in Education in 2019. Following this, Sam became a National Leader of Further Education (NLFE) - one of just eleven in the country and was appointed as an advisor to the Disabled Students' Commission - a new independent group, set up to support disabled students.
In October 2020, Sam was recognised as FE Leader of the Year at the TES Awards 2020.
Live Page Traffic Dashboard