Principal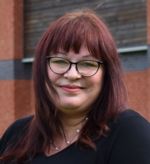 Bev became Principal & Chief Executive of Queen Alexandra College in July 2018 and has worked at the College since 2011 when she was appointed as Vice Principal. She has worked in both mainstream and specialist educational settings and is a qualified teacher.
Bev is currently the Regional Director for the West Midlands on the Board of Natspec (the association of specialist providers for students with learning difficulties and disabilities).
Specialisms are: leadership and management of multidisciplinary provision; strategic development to maximise funding streams; improving organisational outcomes through quality improvement systems and practices; proactive leadership of organisational changes on organisational behaviour; training and delivery to staff; and ensuring a person centred approach is utilised to maximise opportunities and progression for young people with SEND.
Bev has a keen interest in educational management, with a Masters in 'Educational Leadership' as well as an MBA in 'Change Management'.
Bev also paints, writes, loves gardening, especially growing herbs and vegetables (with varying degrees of success) and has an eclectic taste in music.
Live Page Traffic Dashboard