Principal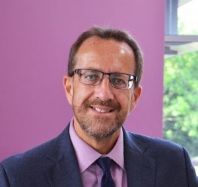 Laurence was appointed as Principal & CEO in September 2019 and is a member of the Search & Governance Committee, the Quality, Teaching, Learning and Assessment Committee and the People & Resources Committee.
Prior to his appointment as Principal, Laurence joined South Devon College as Vice Principal Corporate Services in February 2010, bringing a strong background of strategic leadership and management in the private sector and in school education as a Business Manager in both primary and secondary phases. In 2015 he also became Deputy CEO for the College. During the last 10 years he has led cross college ambitions in sustainability and equality and diversity, as well as College professional and business support areas of Learner Services, Estates, Finance, Human Resources, IT & Systems, Commercial Catering & Retail and Information Services and bidding for additional external funding to diversify College income and enable further responsiveness and success. These bids have included in excess of £30m of new capital grants.
Having achieved a Certificate in School Business Management in 2004, some of his notable achievements at South Devon College have included overseeing the delivery of the £9m University Building; £7m South West Energy Centre, oversight of the funding and development of the £10 million South Devon UTC in Engineering, Water & the Environment; £3m South Devon College Sports Centre; and the new £17m Hi Tech & Digital Centre whilst sustaining the College in Good Financial Health and successful achievement of Investors in People Platinum in 2017.
Live Page Traffic Dashboard