Principal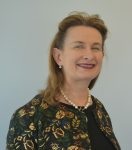 It is a great privilege to be the Principal and Chief Executive of South Lanarkshire College, a role I took up on 2 March 2020. I am passionate about lifetime learning and committed to supporting the critical role of the college sector in securing community benefit, social and economic revival, and in providing second (and third) chances for individuals.
I am responsible to the Board of Management for the financial health, internal organisation, management and discipline of the College and accountable for managing the finances of the College. I currently sit on a number of Colleges Scotland working groups and support the work of the UK College Commission and the Four Nations College Alliance.
I have previously worked in Scottish Government in a variety of roles, including three senior positions in tertiary education policy, most latterly as Director of Advanced Learning and Science, where I was responsible for £3 billion of public funds to secure teaching, learning and good governance and to support research, innovation and science in our tertiary institutions and science centres. Before that, I worked with Scottish Homes for a number of years and with Glasgow City Council before that.
I am a language graduate from Glasgow University, where I also completed an MBA. I am married with two teenage sons, both still in the education system, and a constant reminder to me of the importance of always delivering the best learning experience to all our learners, helping them all to to succeed in their studies, and to progress in their chosen career.
Live Page Traffic Dashboard