Principal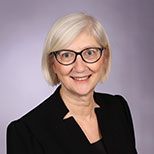 Fiona is proud to be Executive Principal of Lambeth College, and part of the London South Bank University group, and places great value in the role the College plays in supporting those that live and work in South London. Fiona values the pioneering partnership with the LSBU Group and the vision to provide lifelong learning and continues to build on the vital role that the College plays in transforming lives.
Fiona has worked in Further Education in London and the South-East for over 25 years, initially as a Lecturer in Creative Arts and more recently in a number of senior leadership roles at Abingdon & Witney College and Aylesbury College, where as Deputy Principal Curriculum and Quality she supported the merger of Amersham and Wycombe College creating the newly formed Buckinghamshire College group (BCG).
While at BCG Fiona was a board member of Buckinghamshire Education and Skills Training, a partnership with Buckinghamshire New University, and was a board member of the Bucks UTC. Fiona is also a member of Laser Awarding Body Corporation and Chair of the Quality Committee. Fiona sits on the Education and Training Foundation Group for Technical Education and has recently visited Denmark as part of a Gatsby Foundation visit exploring vocational education models in Europe.
Fiona is undertaking postgraduate studies on Professional and Technical Education and is a member of the Society for Education and Training and the Chartered College for Teaching. Fiona is committed to supporting the continued professionalisation of the sector and raising the profile of Further Education and the role it plays in transforming lives.
Live Page Traffic Dashboard