Principal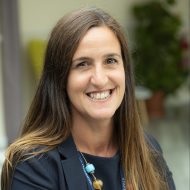 Julie Milburn has an extensive professional history which includes over 20 years' experience in further and higher education. She has previously been Vice Principal at Farnborough College of Technology (FCOT), covering both FE and HE with extensive involvement in industry partnerships, and previously Head of School at FCOT. Prior to FCOT, Julie had been at Newbury College and at East Durham & Houghall College in a variety of teaching and management roles. Whilst at East Durham and Houghall, Julie was based at Houghall campus, the specialist residential land based college campus in County Durham.
Julie has a background in Sports Science and has worked closely with sports based and many other employers and businesses. Julie has extensive professional expertise and experience in the design and delivery of curriculum for Further and Higher education and the quality improvement of the same. Julie also has extensive professional expertise of supporting and safeguarding students being the Designated Safeguarding Lead for Sparsholt and Andover Colleges.
Julie took up her current post of Deputy Principal Curriculum in July 2018 and, following external advertisement, was appointed from a very strong field of applicants to be Principal Designate (July 2020) . Julie succeeded Tim Jackson in July 2020 after Tim retired from his post after 22 years as Principal.
Live Page Traffic Dashboard