Principal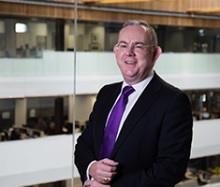 Paul Little is the founding Principal and CEO of Scotland's largest technical and professional skills college. A Harvard Business School graduate and distinguished academic, Paul brings a wealth of experience in tertiary sector transformation, curriculum innovation and performance excellence.
He has for the past 28 years successfully led and reshaped five UK colleges earning a national and international reputation as a visionary reformer, successful change agent, merger specialist and thought leader in redefining college education. He has successfully pioneered the merger of Glasgow's specialist colleges into a world-class super college for 40,000 students.
As a qualified yacht skipper, Paul enjoys sailing. He served with HM Coastguard as a part-time search and rescue Officer for 30 years, completed several tours of duty with the US Coastguard and was decorated three times by the Queen.
Live Page Traffic Dashboard