Principal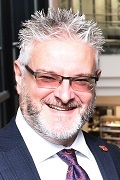 Mike joined the College as Principal and Chief Executive in January 2018 from the College of North West London, where he was Deputy Principal for three-and-a-half years, leading it to a successful merger as a Good college. Mike has been a senior leader, with extensive experience in FE Colleges, Schools and Private Training Providers, since 1996 and also worked for six years as an Additional Inspector for Ofsted in London and the South East Region.
Mike holds a BA in Music from Leeds University (Bretton Hall); a PGCE from Manchester Polytechnic; and the National Professional Qualification for Headteachers (NPQH).
Originally from Cambridge, via the North West, Leicestershire and London, Mike now lives locally and has worked nationally, as well as in London and the East Midlands. He is a keen gardener, has an organic allotment and keeps bees and chickens. Mike enjoys cooking for friends and family and remains a keen follower of the UK Music Industry.
Mike believes passionately in providing the best possible quality of educational provision for all our students, whatever their starting point, from across the East Riding and beyond. East Riding College exists to provide very high quality training opportunities for local people, communities and employers, working in partnership with others to help drive economic regeneration and sustainable growth across the region. Mike's role as Principal and Chief Executive is to drive and lead this agenda on behalf of the students, staff and governors of the college. In short, East Riding College is here to support people to transform their lives and fulfil their potential.
Watch the latest video of Mike being interviewed by students from our Media department.
Live Page Traffic Dashboard