Principal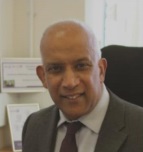 Darrell was appointed Principal of Uxbridge College in August 2019, having previously been Vice Principal - Curriculum & Standards at the College since August 2007.
Born in Nairobi, Kenya, Darrell grew up and was educated at a grammar school in West London. Darrell obtained a BSc Hons from Kings College, London and completed a PhD in Applied Genetics at Birmingham University. Darrell obtained his PGCE from Garnett College, Roehampton University and has considerable experience in the FE sector as a Science lecturer, curriculum and support service manager and senior manager.
As nominee, Darrell led Uxbridge College through its 2008 Inspection where it was graded 'Outstanding' by Ofsted. Darrell chaired the AoC London Quality forum up until July 2019, and through this and previously through other London forums, has been involved in and led a range of London based FE projects and initiatives.
Driving high performance has been a critical part of Darrell's role. The College, now as HCUC and previously as Uxbridge College has enjoyed a strong reputation within the FE sector and is currently ranked first among London GFE for its 16-18 Achievement rates.
Darrell is passionate about the role GFE plays in providing access points and pathways to very diverse range of learners in order that they are able to engage and re-engage with the educational process in a way that allows them to thrive and realise their full potential.
https://www.hcuc.ac.uk/images/Governors/Pen_portraits_Update_June_2020.pdf
https://www.uxbridgecollege.ac.uk/college-news-a-events/6303-new-principal-and-ceo-appointed-to-harrow-college-uxbridge-college-hcuc-group.html
---
Live Page Traffic Dashboard