Principal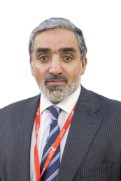 There is no biographical profile of the Principal on the College's website. This detail is from a 2018 article on the Lancashire Business View website.
---
Fazal joins Blackburn College after six years as deputy principal at Walsall College, which is currently graded as 'Outstanding' by Ofsted and holds the accolade of being the first General Futher Education College to receive the 'Outstanding' badge under the most recent inspection framework.
He also worked at Stourbridge College for ten years as a lecturer, head of department and assistant principal, and Herefordshire and Ludlow College as deputy principal for seven years.
Fazal is also a reviewer with the QAA (Quality Assurance Agency) and was part of the team that reviewed Blackburn College in its Higher Education Review in 2015. He holds two Masters Degrees and a PhD in Leadership and Management from the University of Worcester.
Live Page Traffic Dashboard