Principal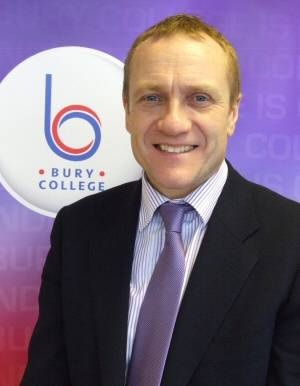 There is no biographical profile of the Principal on the College's website. This detail is from the 2011 article on the Bury Focus website.
---
Bury College is delighted to welcome new Deputy Principal Charlie Deane, who joined the college at the beginning of January.
Charlie was previously Associate Principal at Aberdeen College where he worked at senior management level for over 3 years. Charlie brings with him a wealth of knowledge and experience which includes 5 colleges and a London local authority.
Originally from Hackney, London, Charlie has worked at Calderdale College, Croydon College and Suffolk College among others and his experience includes teaching vocational courses and managing an extensive A-Level programmes. An enthusiastic Charlie is pleased to be a part of this outstanding college, "I'm looking forward to working with the students and becoming part of a team that makes a difference to its students and the wider community, which Bury College certainly does."
An avid climber and runner, Charlie has made the move down from Aberdeen to Bury with his wife and two children and has enjoyed his first week in his new role. Charlie is a strong believer that "the process of education is just as important as the content."
Live Page Traffic Dashboard