Principal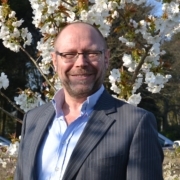 There is no biographical profile on the College's website. This one is from National Theatre Wales.
---
Simon is Principal and Chief Executive of Bridgend College, rated as 'excellent' by Estyn (March 2016). Estyn commented that "the Principal provides inspiring leadership that has had a significant impact on the transformation of the College". Bridgend College is the highest ranked FE College in the UK in the Times 100 Best Companies to work for 2017.
Simon graduated in Drama and Classics from Aberystwyth University and trained as a Drama, English and Media Studies teacher at Nottingham University. He has a MSc in Management from the University of South Wales.
He has worked in the education sector for thirty years. This includes work in the Higher Education, Further Education and School sectors. He has also worked as a Head of Department in Los Angeles, USA on a year long Fulbright scheme.
Together with his passion for education, Simon is committed to Sport and the Arts. He is a Board member for Sport Wales and a founder member of the Steel Wasp Theatre Company. He was formerly a Director of the West Glamorgan Youth Theatre Company.
Simon is a Board member of ColegauCymru, a member of Bridgend County Borough Council Public Service Board as well as a Board member of Ystradgynlais Miner's Welfare Hall.
Simon lives in Ystradgynlais and is married to Kelly and has three children.
Live Page Traffic Dashboard