Principal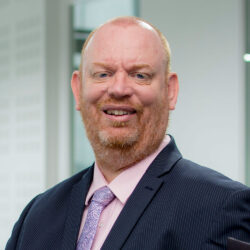 Chris joined Bradford College from Barnsley College, in March 2019.
He has more than 20 years' experience in the education sector, having also spent time as Deputy Principal at South Thames College and Director of School at Newcastle College.
Graduating from Canterbury Christ Church College University with a degree in IT and Sport Science, Chris began his teaching career in 1997 with a part-time role at Bedford College teaching and coaching footballers. From there he went to City of Westminster College to become a full-time lecturer then onwards to Braintree College as a Curriculum Leader. His next move was to Hereford College where he was a Head of Department before going on to Newcastle College where he was Curriculum and Pastoral Manager for the sixth form and later promoted to Director of School for Business and Care.
He left the North East to take up the role of Deputy Principal at South Thames College before moving to Barnsley College in March 2011 as Vice Principal for Quality and Development. Two years later he became Deputy Principal Finance and Development before taking the Principal and CEO role in 2015.
https://www.bradfordcollege.ac.uk/news/college-appoints-new-ceo/
Live Page Traffic Dashboard