Principal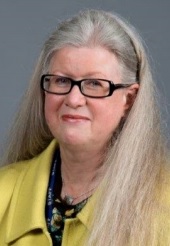 During my time as Principal at the Institute I have been passionately committed to developing a strong partnership culture and a responsive, flexible service believing that only by working together with our local community and business partners can we raise participation and achievement as well as equalising opportunity through better access to learning for disadvantaged learners in Redbridge. I have led on a number of sustainability initiatives at the Institute and am currently a judge for the national Green Gown Awards.
I qualified as a Science and Health Education teacher and taught in secondary schools before completing two years with VSO. I have held appointments as City & Guilds Regional Moderator for teacher training and Examiner for Royal Institute of Public Health and Hygiene. I have worked for the Norfolk LEA inspection and advisory team advising on organisation and professional development in post-16 providers across the county. I have served on the board of the London Stansted Cambridge Corridor (LSCC) and the work based learning board of study for Middlesex University. I have held management posts in two FE colleges. During this time I worked on a number of partnership projects including Dental Health for ethnic minority groups in Haringey, Schools Involvement with the Metropolitan Police and Community Learning Champions in Harlow.
I am Vice Chair of Holex and a Director on the Association of Adult Education and Training Organisations (AAETO) Board. I also act as Holex special adviser on leadership, governance and safeguarding (including Prevent) for the ACL sector and was one of the AoC National Leaders of Governance in 2016-17. I have published journal articles on management development, peer review, work based learning and mentoring.
I have chaired the local authority strategic partnership for employment and skills for six years during which time the partnership has worked well together identifying strategic objectives to ensure provider plans meet local employment needs.
Live Page Traffic Dashboard