Principal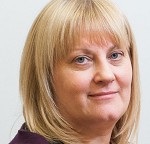 After achieving a BSc Computer Information Systems, Jackie began her career as a computer programmer in the manufacturing sector. She moved onto the University of Paisley as a computing lecturer and was an early pioneer in online learning, a role she developed further when she became director of learning at the Scottish Council for Educational Technology.
As assistant chief executive at Learning and Teaching Scotland, she led national government digital initiatives for schools. Jackie took up a vice principal post at Ayrshire College in 2013, where her responsibilities included information systems and data analytics. She became principal of West Lothian College in August 2018.
Throughout her career, she has retained a passion for addressing the gender balance in technology and engineering, leading initiatives like This Ayrshire Girl Can.
Live Page Traffic Dashboard