Principal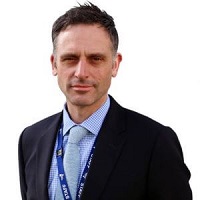 Mark joined Yeovil College as Director of Employer Engagement in November 2015. Prior to this, he studied at De Montfort University where he graduated with an Honours Degree in Graphic Design and Illustration in 1993, Mark then worked as a freelance Illustrator and Graphic Designer until 2007. Mark began teaching Graphic Design in 1995 in the North East of England and continued to develop his work in the sector over the following years until he was promoted to Head of Creative Industries in 2003.
Mark joined the senior team at Northumberland College in the North East with a focus on teaching and learning and working with the business community over the next few years until he joined the Principalship team as Assistant Principal for Teaching and Learning and then subsequently for Apprenticeships and Business Development. Mark continued with the same focus at Yeovil College, from 2015, where he led the strategic direction of our curriculum and engagement with our business community.
Mark has been Vice Principal for Curriculum and Quality at Yeovil College since March 2018 and leads on all teaching related responsibilities. He took on the role of CEO & Principal in October 2019.
Mark believes passionately in the life changing opportunities provided by the Further Education sector and is committed to developing the workforce of the community Yeovil College serves for the prosperity of the whole of South Somerset and Dorset.
https://www.yeovil.ac.uk/news/corporation-of-yeovil-college-announces-new-ceo-principal/
Live Page Traffic Dashboard